**Proud co-organizer of the 2001 & 2002 PhillyClassic**

Awards: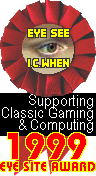 LINKS:


Once in a while I actually do *sell* stuff on Ebay.

My neat little Arcade game site with various information on
classic video arcade games I own(yep, I'm hooked).

Wacky Coleco Pac-Man modification I performed.
(I really don't know what got into me
)

My Wacky Atari 2600jr modification.

My Vectrex - No BUZZ modification

My Atari 7800 - Composite video modification

VAPS - Video Arcade Preservation Society

Classic arcade game MANUALS on-line
with more manuals HERE.




Classic Gaming Expo
The Expo is being held in California this year. See site for details.

Rik's Handheld Game Museum
All things handheld(including the FAQ)




Very well designed site about... What else...
Classic handheld games, a duh!


Electronic Plastic
Excellent handheld website with frequent updates.

Classic Gamer's Homepage
The official video game apartment! (must see to beleive)

Classic Video Game Nexus
Lee K. Seitz's "Site of a thousand sites". Really, Lee's site has links to lots and lots of video game stuff. A "must see" site!

Good Deal Games
Holy Cow! There is an Adventure Vision
crossword puzzle located here. Pretty cool.

Handheld Hustlers
Tom's Trade Page.

Digital Press
Uh, need I say more.


Tomorrow's Heroes
Site offers three monthly newsletters:
Retrogaming Times, Bit Age Times, and
Just Newsprint! A little bit of everything.

Basement Arcade
Classic Video Arcade Games! (my other love!)

Atari Gaming Headquarters
Excellent site covering all aspects of Atari.

Classic VideoGameStation Odyssey (Japan)
Very cool non-US site, check it out!


List Sites
Next 5 Sites
Previous 5 Sites
Join the Syndicate!

This Classic Video Gaming Syndicate site owned by adventurevision@yahoo.com.